Managing business processes is a major challenge in most organizations. It is often difficult to have transparent and common understanding of how we operate inside the company. What are the common steps? Who is responsible for what task? What are the outcomes, products or artefacts that should be delivered? Are there any deadlines? What is our top priority now? These kinds of questions indicate the need to manage business processes. Business Process Management (BPM) is crucial no matter the size of your business. When paired with the right set of tools, and incorporated in IT strategy, it can hugely improve operational efficiency. Below we include a quick high-level introduction to managing your business processes with automation.
Business process management is an organizational discipline where a company takes a step back and looks at all those processes in their entirety and individuality. It analyzes the current state of business and identifies areas of improvement to create more efficient and effective organization.
Business process management (BPM) is the manner in which an organization creates, handles, and analyzes the predictable processes that are at the core of its business.
Each department in a company is responsible for turning raw material or data into something else. There may be a dozen or even more core processes that each department handles.
Business process by itself is a concept of turning some inputs into outputs by a logically defined set of steps and actions. It is simple in its essence, but can be difficult to automate and measure without proper approach.
Why should I care about business process management?
When left unorganized and unsystematized, poor business processes can lead to chaos. At the individual level, people only see one part of a process, and very few of them can scan through and see the full effects of a process, where it starts and ends, the key data needed, and where potential bottlenecks and inefficiencies lie.
Chaotic, poorly-managed, business processes devoid of clear overview can really hurt your business and lead to one or more of these scenarios:
Wasted time, inefficient work
Lack of predictability
More errors and mistakes
Chaotic communication patterns
More misunderstandings between coworkers
Missing data that could be used to improve operations
Unmotivated employees
By applying business process management, organizations can improve their processes and keep all aspects of operations optimal.
Do I really need BPM? We already have project / task management
Business process management is neither task management (which focuses on single tasks), nor project management (which deals with one-off or unpredictable processes).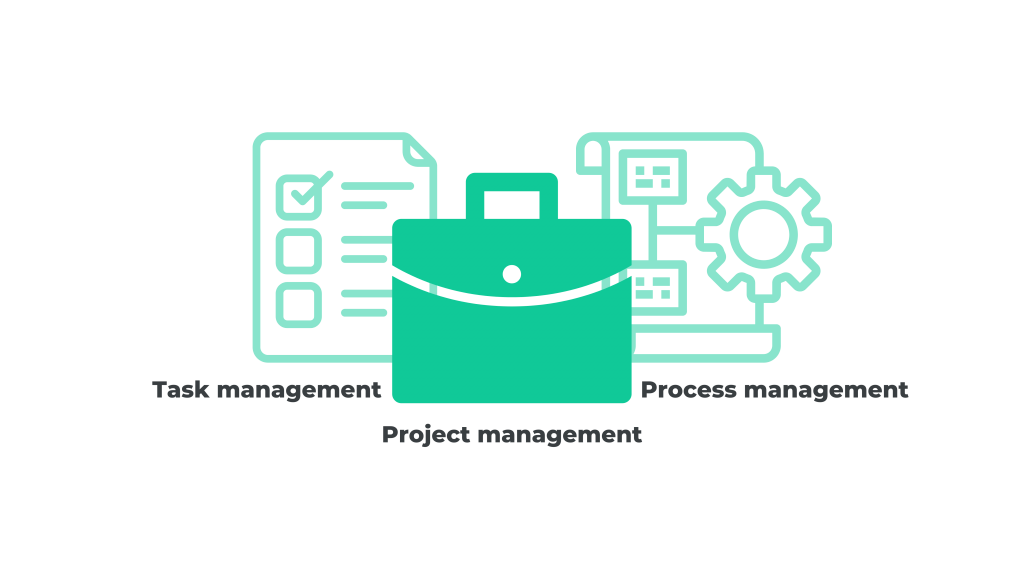 Task management is about handling or organizing a series of activities that result from a project. These projects are often one-off situations and not repeatable. When these projects are well organized, like construction work, project management software such as "Microsoft Project" is used. Trello, Asana or Jira Project are great tools for managing tasks in ad hoc projects.
Business process management focuses rather on repetitive and ongoing processes that follow a predictable pattern, or process management. It provides good understanding of how business operations work, what values they provide and what KPIs are important for the company to improve and thrive.
Business process management, task management and project management all approach concentrate on the topic of work, but from different perspectives. They complement each other, but not really compete with one another. Actually, the BPM tools, project management (PM) tools, and task management (TM) tools are often being integrated to create synergy.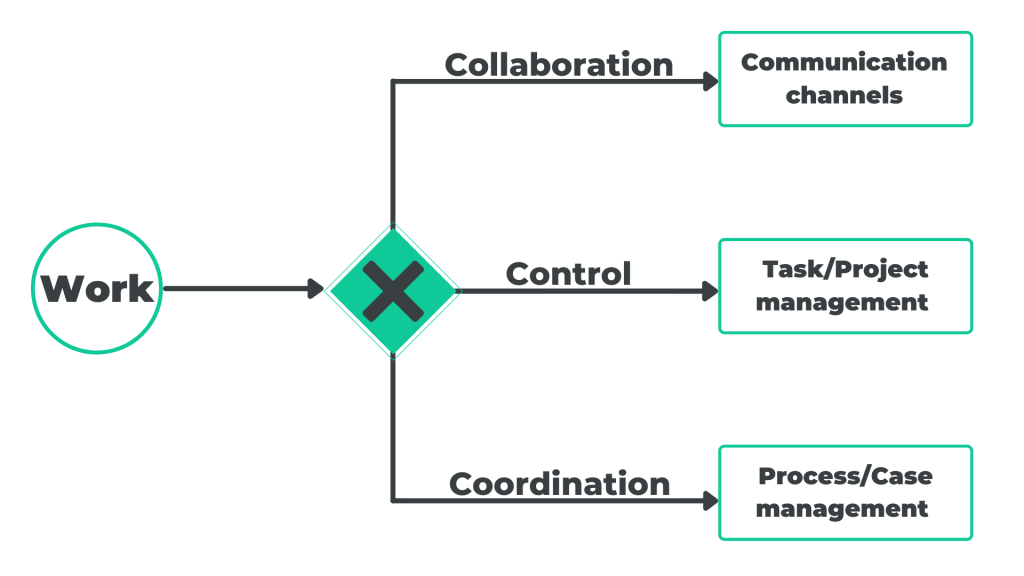 What are the steps of a BPM lifecycle?
BPM as a discipline has defined a repetitive lifecycle to constantly automate, monitor and improve processes.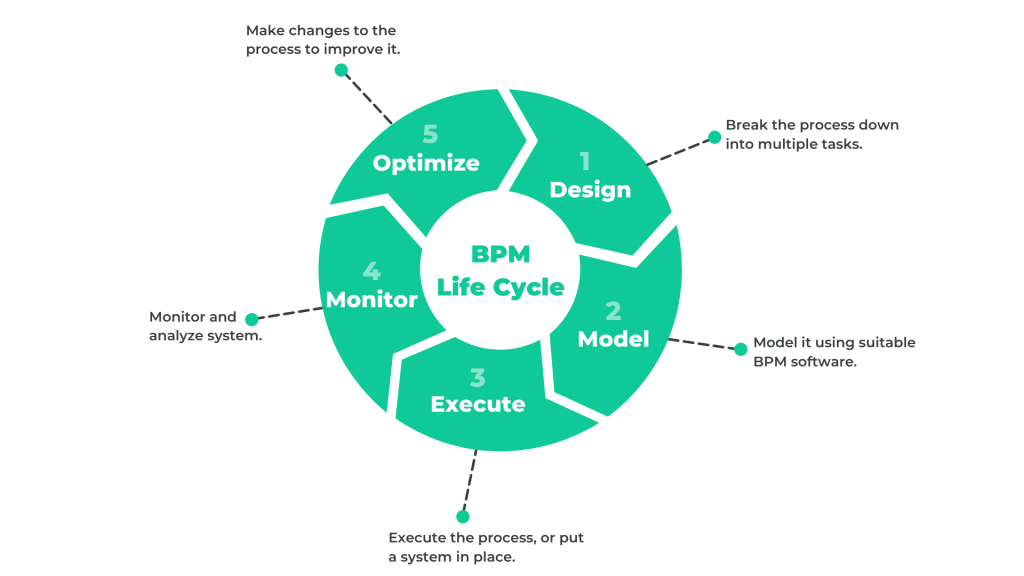 Design
Processes are usually triggered by some action, schedule or business event. Most of them orchestrate communication between different parties. There is always some defined workflow and some business outcomes. On top of that, there is some business owner of the process who wants it to improve. Build basic understanding of the process structure (using formal or informal notation) with the stakeholders.
Model
Present the process in a visual layout with formal executable definition. Set some useful rules, like deadlines and conditions, to give a clear idea of the sequence of events, and the flow of data through the process. There is BPM notation which is the industry standard in defining the business processes.
Execute
Execute the process by running it on some process automation engine (i.e. Camunda). Do some live testing with a small group first, and then open it up to all users. Make sure you restrict access to sensitive information.
Monitor
Keep an eye on the process as it runs through the workflow. Use the right metrics to identify progress, measure efficiency, and locate bottlenecks. Verify if business metrics and managerial insights can be collected. Here you can find a more detailed article about this step.
Optimize
As you evaluate the process, analyze and monitor it, you'll notice improvements that need to be implemented to your workflow to make it more efficient. Consider business process improvement steps. Maybe redesign would be useful? Process engines can often support versioning of process definitions.
What are the various types of business process management?
BPM systems can be categorized in multiple ways, based on their nature or the purpose they serve. Here are the three types of processes that are usually being automated in the industry:
Document-centric process
This approach to process automation is required when a document (e.g. a contract or agreement) is at the heart of the process. Document routing, formatting, verifying, and getting the document signed are the tasks that are being passed along between the parties in a workflow.
Human-centric process
Human-centric processes are primarily executed by humans (sic!). These often streamline communication, utilize experts' knowledge, have a lot of approvals and tasks performed by individuals. These platforms excel at friendly user interface, easy notifications, and quick tracking.
Integration-centric process
This type of processes handle situations that primarily jump between existing systems (e.g. HRMS, CRM, ERP) without much human involvement. Integration-centric business process management systems have multiple connectors and APIs to be able to create processes that move fast.
Some business process management systems will be able to incorporate element of these, but each one will usually have one specialty. There are also some systems that provide flexible means for development teams to customize the process engine.
In the following articles we will describe in more detail some examples and case studies of automated processes from the telecommunication, banking and insurance sectors.
Does business process management bring any value to my business?
Sure! Here are some of the primary benefits of using BPM in your business:
Get more overview on how your processes look like
Identify obvious improvement areas
Identify process areas that are chaotic and unwieldy
Create, map, analyze, and improve business processes
Increase operational efficiency
Run everyday tasks more easily
Move toward digital transformation
Get an insight to measure KPIs and SLAs
Closely track individual items as they move through a workflow
We have published a full article describing this argumentation more thoroughly to give you some ammunition to sell the idea to the decision makers inside your company.
[su_button url="https://blog.devapo.pl/when-should-you-consider-a-business-process-management-solution/?utm_source=blog1&utm_medium=cpc&utm_campaign=telco&utm_id=bpm" target="blank" style="soft" background="#A6E2D2″ color="#393e41″ size="5″ wide="yes" center="yes" icon="icon: book" icon_color="#393e41″ desc="When should you consider a Business Process Management solution?"]Read our next article [/su_button]
[su_button url="https://bpm.devapo.pl/?utm_source=blog1&utm_medium=cpc&utm_campaign=telco&utm_id=bpm" target="blank" style="soft" background="#10c998″ size="5″ wide="yes" center="yes" desc=" feel free to contact us"]More about BPM[/su_button]