A significant number of telecom companies operate on legacy systems that have been custom-built with different standards and technologies. For this reason, the sharing of telecommunication infrastructure, while a natural solution for communication service providers (CSPs) to ensure business growth, brings challenges to the agile implementation of collaboration. This makes it difficult for the entire industry to seamlessly communicate between systems and continuously develop.
In this article, we will provide you answers to the following questions:
What is Open Digital Architecture (ODA) and is it a cure for the telecommunications industry?
How does Open Digital Architecture work?
What is the role of Open API in ODA approach?
How can ODA be used in the telecom industry? The benefits
How to leverage ODA?
ODA – a solution to a sore spot?
ODA (Open Digital Architecture) is a framework presented by TM Forum as the answer to a rising issue. It is an approach that focuses on building software as an open, standardized solution available in the cloud. The framework relies on a variety of components that enables the replacement of legacy OSS and BSS systems by allowing telco vendors and operators access to a common language and design principles. This contributes better collaboration from both a business and IT perspective.
How does ODA work?
The ODA was established to standardize the software development model and streamline telecommunications market relations. Therefore, it needs clear principles to follow its main goal. To simplify the legacy systems transformation to Open Digital Architecture (ODA) and the creation of new ODA ecosystems, the Open Digital Framework was developed.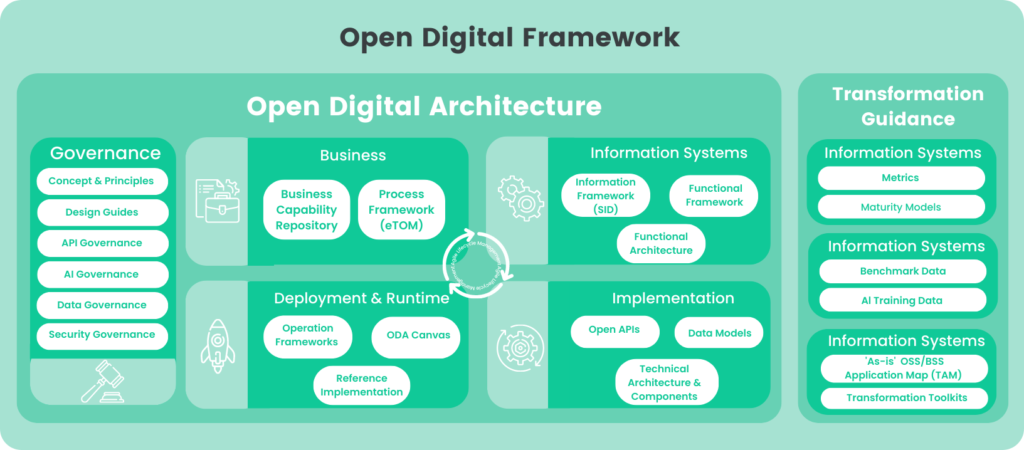 ODF is a collection of expertise, benchmarks, but also tools and open code frameworks that guide the development process. It is consistent of Open Digital Architecture, which core elements are:
Governance – a component responsible for making sure that an ODA project is created in accordance with regulations. It provides access to common policies, or guidelines, to ensure security of the project.

Business – the key to creating an ODA project strategy. It talks about the value the project is expected to deliver to the business and its stakeholders. For this purpose, the eTOM, known as the Business Process Framework, is used. eTOM enables effectively understanding and managing software to better meet business needs.

Information Systems – a part of the ODA architecture, which provides a view of systems and data through 3 different frameworks. It enables the organization to execute business processes, digital transformation or navigating functional architecture.

Implementation – is a set which conceals various components that facilitate the implementation of lean, cloud-based solutions. The main tool here is an open API, enabling an agile approach to building IT and network systems.

Deployment & Runtime – consists of instructions on how to convert a clearly defined architecture into a real solution.
The role of Open API in ODA
The ODA model has the potential to become a standard for how open platforms are built, enabling communications service providers to be more efficient. The role of Open APIs is to provide a standardized approach to functional application integration.
Inter-business communication and integration becomes more agile, thanks to imposed programming and application development standards. Equal and widely available documentation allows new users to plug into a common system in a much simpler way. This approach simplifies the already complex integration process by informing how operations should be performed.
Thanks to the Open API specification, it is not necessary to explain to external users how the system works. Standardized communication allows for integration with any operator who works with this framework, facilitating business interactions.
Benefits of Open Digital Architecture
ODA framework was developed to smoother and speed digital transformation to cloud-native architecture. Shared environment allows accelerating paths towards automated processes and faster time-to-market of new services through better communication and increased interoperability.
Although TM Forum calls ODA an evolution, not a revolution, it makes it possible for operational agility and customer experience to reach a whole new, higher level. This approach enables development of IT solutions that are simpler and less expensive to implement, integrate and upgrade.
Open API specification as standard practice allows for vendor-agnostic solutions and counteracts Vendor-Lock In phenomenon. Teams from different companies are able to implement a solution, whenever needed.
As you can notice, ODA has many benefits that can be used in many different scenarios. Right now, your competition is using ODA to:
Develop zero touch, automated operations such as customer self-service
Create a Partner Platform to collaborate and monetize digital services with third-parties
Streamline and automate business processes to increase efficiency
Implement digital transformation through migration to cloud-native systems
Effectively personalize product offerings for customers in real time with use of artificial intelligence (AI)
Increase profits with structured customer data
Cut integration and maintenance costs thanks to modern and easily scalable solutions
Do you want to leverage Open Digital Architecture?
If you are looking for a solution to strengthen your telecom operations and want to work on modern solutions with high standards, be sure to find a contractor who understands and can apply ODA principles.
As Devapo, we are an active TM Forum member who have signed the ODA Manifesto. This means that we have all the necessary knowledge and tools to implement a solution based on this innovative framework into your telecom infrastructure.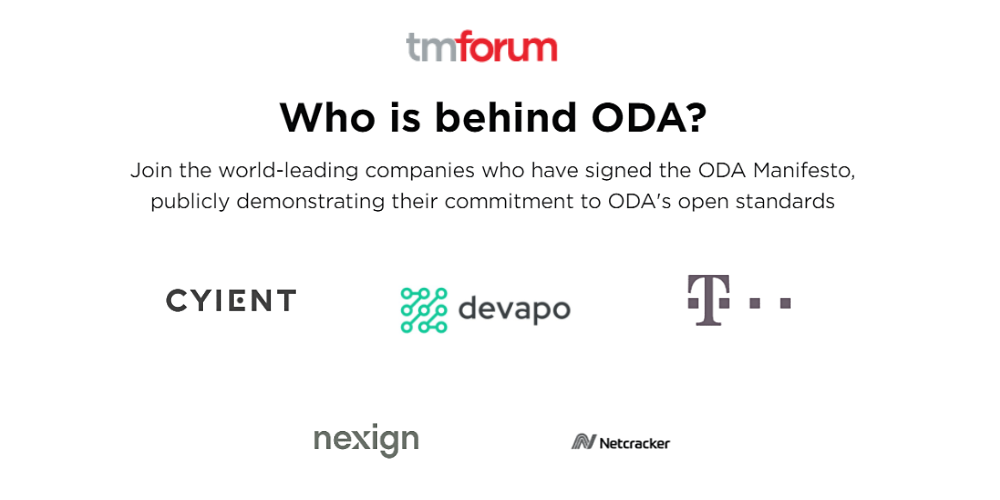 ---
Summary
Open Digital Architecture (ODA) is an approach for creating digital ecosystems in the telecommunications industry. It is based on the concept of open-source software, which allows for the sharing and reuse of code, enabling faster innovation and collaboration between companies. ODA is designed to be flexible, scalable and adaptable to future technologies and industry changes. This approach is different from traditional closed systems, which can be inflexible and expensive to maintain.
ODA can be beneficial for telecommunications companies as it allows them to create digital ecosystems that can be easily integrated with other systems and services. This can help them to better serve their customers and stay competitive in the market. Additionally, it also allows for the creation of new revenue streams through the development of new products and services.
---
---
Case Study for Telecommunication Operators
Platform Integration using the ODA approach.