I can bet that in your company, there are business processes that can be automated, or systems that need to be updated, or other technology-related needs. In today's marketplace, if you want your business to remain competitive, you need to use solutions that ensure the efficiency of the operations. But not every organization has the resources to develop IT projects in-house.
As an experienced project manager, I will guide you through the differences between staff augmentation vs outsourcing projects. The insights will help you decide what to do when you need to implement a new solution but do not have the assets.
You have a need for implementing an IT solution, what's next?
Hiring a team of full-time software developers to handle the project themselves can be overly costly for most companies. Despite referring to the financial aspect of recruiting or staffing costs (which are undoubtedly higher than simple contracting), I also think of the costs associated with time. It can take up to several months to build a decent team of specialists who can create the solution you need.
In my career, I've met many clients who needed projects on:
building a system to automate back office operations,
creating a platform that could support their customers,
upgrading their systems because the technology they were using had lost support, and so on and so on…
In most cases, their needs were chased by a deadline, as each day of doing things the old way brought losses.
With staff augmentation or project outsourcing, a company gets the resources it needs almost immediately and can kick off with any project. This is one of the many reasons why these models have become such a popular way of cooperation. But what are the differences and, most importantly, in what situation is it worth choosing which approach? Let's get to the specifics.
Staff augmentation
This approach is the best, if you already have a team of experts, but lack some expertise. Staff augmentation involves hiring outside resources to fill in the gaps, for a specific period of time or task. These individuals work under your supervision and direction.
One of the primary advantages of hiring external help is cost efficiency. It allows you to hire people with specialized skills only when you need them, reducing overhead costs such as benefits and training. In addition, you have more flexibility to increase or decrease the size of your team as project requirements change.
To reduce the time involved in obtaining such people, it is worth entering into a partnership with a company that offers such a model. Otherwise, the time can be comparable to ordinary recruitment.
Another advantage of hiring employees is full control. Such people work under your supervision, so you have the opportunity for more frequent contact, or to control the quality of work.
Project Outsourcing
When you don't have a dedicated team, or have one, but their focus is on other activities, the project outsourcing may be for you. It involves hiring an outside company to carry out a specific project. Such a team works independently, delivering agreed-upon results within a specified time and budget.
You then get access to the expertise and experience of the entire organization, not just individuals. And if you follow best practices when looking for the perfect outsourcing partner, you should outsource the project to a company that already has experience with your industry or with similar cases. This way you can increase the efficiency of your solution. Since the company has already processed similar problems, is able to solve them faster and, thanks to insights, propose interesting solutions.
When you outsource, you are handing over almost all responsibility for success or failure to another company. While this can be a downside, it can also be seen as a benefit. For example, if the time or resources needed for a project are misestimated, the contractor is still obligated to deliver the solution. So if he has to increase the workload due to his underestimation, you will miss out on additional fees. While if your project was done in-house, all the costs would be on you.
Project outsourcing is much more costly than staff augmentation. At least at first glance. No less, it is still a more "one-time" expense and more cost-effective than recruiting an entire team for your own in-house use. For a full list on why it's worth outsourcing entire projects, you can read our 5 reasons.
So what to choose? Staff Augmentation vs. Outsourcing Projects
When choosing between staff augmentation and project outsourcing, you should consider factors such as:
Project requirements
Budget
Time-to-market
Risk management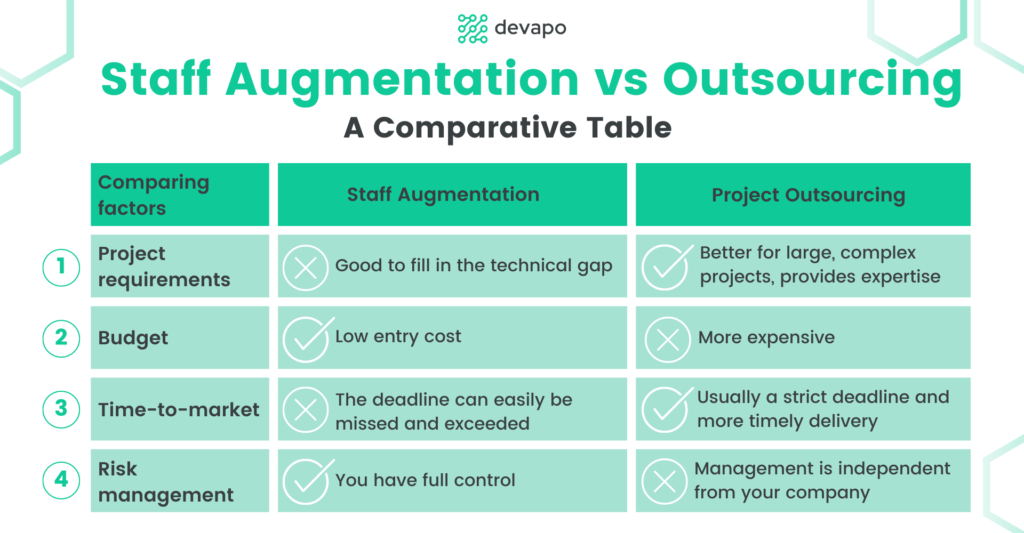 Project requirements
The first step in deciding whether to use staff augmentation or outsource a project is to determine the project requirements. Answer the question: how complex is the project? Maybe you need consultation from a team that has handled similar cases? In such a scenario, finding an outsourcing company specialized in the area you are interested in can be more beneficial than expanding the team with someone familiar with the technology, but not the context.
Budget
Above, I briefly touched on the budget. While hiring employees may seem like a cheaper option, keep in mind that it's also important to evaluate what type of contract you sign. Outsourcing providers may offer a fixed-price contract or a price-per-project contract, which can help you control your budget. Working in-house and only augmenting your team means that you are using your own existing infrastructure, tools and resources. When added up with individual salaries can make the overall cost of the project more expensive. Outsourcing can still prove profitable, even if you have an in-house team. It can be when your team either doesn't specialize in a particular area or is currently absorbed in activities that bring you more profit.
Time-to-market
There have been many times when a client has decided to outsource projects to us because internally they found it difficult to say "enough". Let me explain. When a project is created for internal operations, it tends to expand. If you choose to outsource, the agreed-upon work must be done. And while there is room for change, some clients find it helpful to restrain themselves from implementing new ideas. In contrast, if you choose team augmentation, the people become part of your team and are paid on an hourly basis. So there is no specter of financial penalty for not delivering something on time. It's just your decision how much more work you add.
Risk management
Last factor I want to consider is the level of control and supervision required. If you want to maintain a high level of control over the project, staff augmentation may be a better choice. But if you want things to be done, and focus on other areas of your business, outsourcing may simply work better.
Summary
Both staff augmentation and project outsourcing are types of outsourcing. Ultimately, the right approach depends on your business needs and project requirements. If you are looking for such services, at Devapo we can help you with both approaches for a variety of projects.
We specialize in business process automation, data engineering, cloud solutions and legacy systems modernization.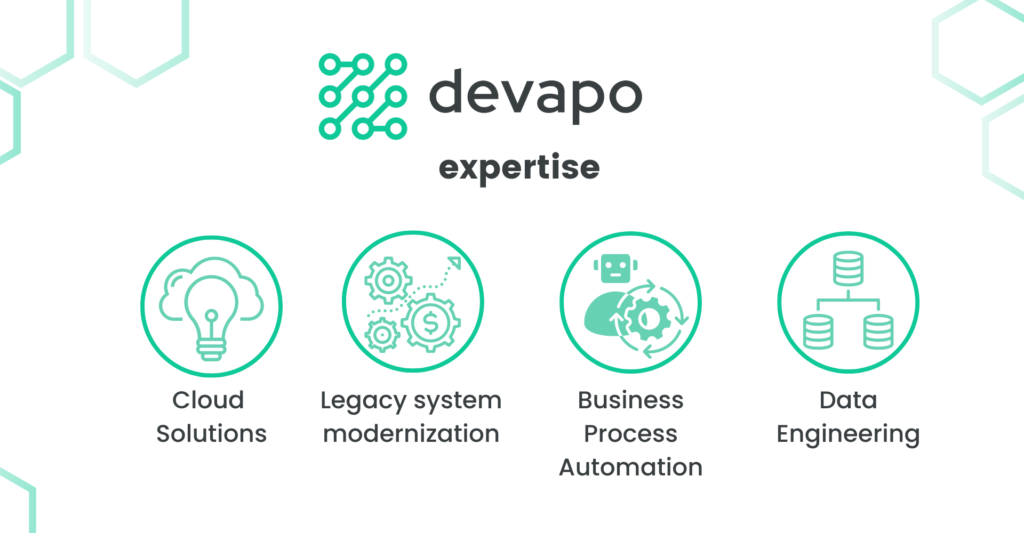 ---
---
Do you want to outsource IT project?
We are here to help you growth