Right now your competitors are updating both operational support systems (OSS) and business support systems (BSS) to keep up with changing customer and sector needs.
TM Forum, which is one of the most important standards bodies in the OSS and BSS industry, claimed that the race for digital BSS transformation has already begun. It even has a finish line. This is a Cloud-native solution with automated systems and processes combined to deliver a superior digital experience for the end user.
Stay with me until the end to find out HOW and WHY to update your BSS, so it can solve today's telecom problems. I will also provide an example of a solution we implemented in a business support system, for one of our CSP clients.
Why transform business support systems when it works?
Look at your BSS, is it based on a monolithic architecture? If it has not been upgraded recently, the answer will most likely be positive. This has been standard practice in the telecom industry. As technology advances so quickly in the digital age, older BSS have become inflexible, making it difficult for telecom companies to adapt quickly to changing market demands. In addition, older Business Support Systems are often siloed, which can lead to inefficiencies and inconsistent customer service. They are also expensive to maintain and upgrade, which can limit telecom companies' ability to invest in new technologies and services.
I mentioned that older BSS are pricey to upgrade. I am also referring to their general modernization, which takes into account the guidelines below. Yes, it's not a cost-free procedure. However, it's essential for driving innovation and will result in much cheaper maintenance and practices than they are today. Of course if done right, so be sure you are suported by a reliable partner.
Nevertheless, 5G is undoubtedly the most significant driving force behind BSS changes for many CSPs. Business Support Systems (BSS) were designed for the previous generation of telecom networks. However, with the advent of 5G, demand for services such as IoT, virtual reality and edge computing is growing. Simply put, legacy BSS systems may not be able to monetize the large amount of data generated by 5G networks and devices as easily as today's technologies, resulting in latency and delays that industries can not afford.

Let's put a period here and go over what changes should be implemented to get the most benefit from a modernized BSS.
BSS that will meet your current and future needs
The modern BSS must be more agile, and the telecom BSS architecture must support the customer experience and provide access to 5G services. CSPs must also adapt to a multi-vendor landscape, so different systems can communicate with each other seamlessly. Digitization, standarization and the migration to the Cloud are key factors so that CSPs can more easily monetize their investments.
BSS that face 5G needs
Let's start with the most prosperous technology in telecommunications. 5G is taking an ever-larger slice of the pie in terms of share of service sales, but it still can not realize its full potential by operating on the old BSS.
5G networks require faster, more reliable infrastructure and the support of automation tools to effectively manage their dynamic nature. When it comes to supporting this technology, a Cloud-native BSS is considered more suitable. It allows for greater flexibility and scalability to handle increased data traffic and more complex network requirements. Cloud solutions can also provide better support for 5G network slicing and software-defined networking (SDN) capabilities. Among other things, this enables telecommunications service providers to add new subscribers and services quickly and efficiently, without the need for costly and time-consuming infrastructure upgrades.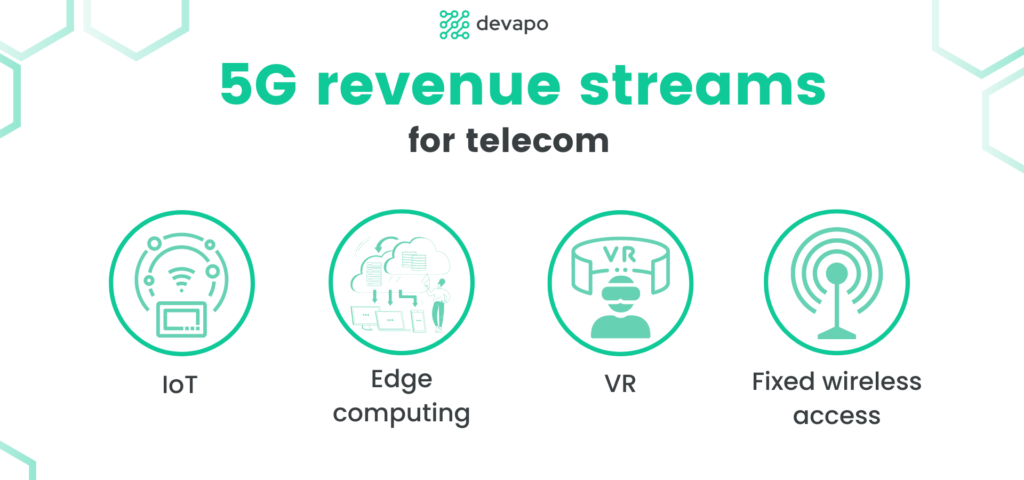 To take full advantage of 5G, big data must be analyzed. Leverage gained insights to improve services and create new revenue streams. It is automation that is driving business to greater scalability today. Tools such as automatic data retrieval and generation of clear reports result in better handling of various customer requests. 5G networks therefore require seamless integration with various systems, services and devices. For example, 5G relies on network functions virtualization (NFV) to support the deployment of new services. APIs are a powerful tool to enable such integration, so be sure to create your BSS according to TM Forum's Open API manifesto.
Introducing 5G Network-slicing
Network slicing – I have used that buzzword above, so let's dive into it a little bit more. It is an important feature for 5G that allows different logical networks to be created on top of a shared physical infrastructure. Telecom companies can create virtual networks that are tailored to the specific needs of different types of users or services.
One of the main benefits of network slicing is that it allows telecom companies to create highly customized and dedicated spaces for different use cases, such as IoT, autonomous vehicles, high-definition video streaming, etc. This approach can enable the delivery of high-performance, low-latency services with tailored parameters such as transmission speeds, which can be critical for certain applications such as VR and AR, industrial control or automation.
To take advantage of the network slicing phenomenon, you must not only deploy 5G, but also overhaul the BSS. In order to realize the potential of network slicing, the BSS cannot be a monolith, as managing it will be extremely cumbersome.
Is 5G the only reason to modernize the BSS toward openness and a Cloud solution?
Moving Business Support Systems BSS functions to the Cloud can prove valuable, aside from the role of 5G. Cloud, in large part, can mean a reduction in operating costs associated with maintaining and expanding on-site infrastructure. That's because Cloud provides flexibility, allowing service providers to quickly introduce new services and features without large capital investments. It can be available on a pay-as-you-go or subscription basis.
However, moving the entire infrastructure initially involves large costs, which can increase if the migration or infrastructure construction is poorly planned. But to cheer you up, you can save a lot if you know how to prepare for such a task. It's worth it to use the help of a partner who will not only migrate your BSS, but design the architecture and will be your signpost all the way. If you are looking for such, tell us a little about your needs here.
Cloud also meets current work expectations. BSS that runs in the Cloud can be accessed remotely, so service providers can manage their networks from anywhere, which is a great option to increase better user and customer experience.
Beside Cloud-native, BSS should also be aligned with TM Forum's Open Digital Architecture for a leaner, agile and intelligent backbone. Complying with TM Forum standards provide a common Canvas and set of guidelines for developing and implementing these systems. This helps ensure that BSS solutions from different vendors are compatible and can easily integrate with each other. In addition, since TM Forum standards are designed to promote interoperability and integration, using a Cloud BSS that complies with these standards can ensure that the BSS will work seamlessly with other systems and can be easily integrated with third-party solutions. See our Case Study, in which we implemented the integration of the platform for various telecommunications operators with the use of Open API principles.
An example of a BSS upgrade for our client
Everything I've outlined above isn't just theory or an idea of how telecoms should use modern technology to become more competitive. These changes are already taking place in many organizations, and it's high time for you to catch up as well.

At Devapo, we have completed several BSS modernization projects for our telecom clients over several years. Below is a brief example of how BSS digital transformation program improved our client's its business operations. Project required development of a system for recording network resources, customer technical parameters and network capacity planning. Complying with the TM Forum Open API specification, we delivered a solution that gave:
Capacity management & demand forecasting – makes it easier to reach new customers by visualizing areas where services are not provided, and presents information about the competition operating in them.
Network structure – thanks to information on the available and planned infrastructure in the area, it allows you to better analyze the structure of the network and the resources needed to maintain it
Investment & CRM – integration with investment management and CRM systems allows other areas of the company to use the most recent data on available addresses
Order management – a consistent geographic data model allows you to better automate sales and order processing in both the retail and wholesale models
Summary
BSS systems are increasingly being migrated to Cloud-based solutions, which can provide telecom companies with cost savings and flexibility. The idea is not to replace existing IT systems and reinvent the wheel, but to augment them with next-generation technologies in a planned, staggered manner while ensuring excellent business continuity.
Modernizing the BSS will provide improvements in organizational productivity and cost efficiency by improving processes such as order processing, post sales and service assurance. Today, the prevalence of Cloud technology offers a viable, scalable and flexible solution for CSPs.
Here, at Devapo, we are contributing to this transformation. We are a long-time member of TMForum, which gives us access to the latest knowledge on ODA and understanding of the telecom market. Our customers are already benefiting the solutions we have implemented together for them. Be the next one.
---
---
It's Time to Replace Your Legacy Systems.
If you're curious about what cutting-edge technologies can support your IT background, contact us!