Most companies struggle to adapt to the rapidly changing business environment because they are using legacy systems. This causes the introduction of new features or attempts to upgrade old ones to pile up errors and further complicate development.
Optimizations or modifications of IT systems, which are after all the lifeblood of modern business, are often postponed for years, resulting in stagnant practices and loss of competitive advantage. Let me introduce you to the world of legacy system modernization – see why it's worth it!
Defining legacy transformation
Legacy transformation is more than just a software upgrade. It is an essential step in a company's digital transformation efforts. The process of legacy system modernization allows it to function more efficiently while maintaining the core values of the existing business. By keeping your technology stack up-to-date, you remain innovative and meet rapidly changing market demands.
Modernizing legacy systems should always be executed after in-depth analysis of situation and on the basis of a defined strategy. Depending on how the technology behaves and what the business goals are, the approaches to legacy system transformation may involve re-architecting, rebuilding or fully replacing current infrastructure.
When should you consider legacy system modernization?
The business need for legacy transformation can arise from several conditions and be quite different even for directly competing companies. However, there are a few universal points that are common no matter what industry you operate in. Let's take a look at situations in which legacy modernization should be an option:
1. Legacy solutions are no longer supported by vendors
Lack of adequate architecture and data security or regulatory compliance are among the most common reasons forcing companies to change technology. Systems are evolving at a rapid pace. As new environment emerge, old ones are often no longer supported or are only maintained for a limited time. This causes many solutions to not only lose their ability to scale, but to become vulnerable to increasingly frequent failures due to insufficient technical support. Legacy system modernization can prevent it.
2. Business changes require more/less support
When a company grows or is in decline, a system change can be a game-changer. Moving to a more powerful system may be necessary if business processes become too complex and require greater scalability. On the other hand, if the company is going through a more difficult period and the current system only generates costs, it is also worth considering a change. The right modifications help a company survive worse times as well, minimizing legacy system maintenance and exploration costs, but also will prepare the ground for better development.
3. The need of integration with other systems occures
Legacy systems may not be able to easily integrate with modern applications. Therefore, connecting outdated software to services, tools or external data requires a lot of customization in the existing code structure and time. That's why it pays to arm yourself with new technologies with built-in integration features to improve agile working and scalability for the future. The use of APIs makes it much easier to access other software, providing almost unlimited integration possibilities without having to develop code from scratch.
4. Keeping up with the market
Without modernized technology, it is almost impossible to keep up with requirements and trends, let alone catch up with the developed competition. Innovation requires legacy system modernization to supports development cycles. Nowadays, we are moving away from linear software development to microservices that can be developed concurrently, allowing for faster time-to-market. Cloud-based development is also new standard, making applications available to a larger number of people in a more cost-effective way. New and better tools support employees to communicate, collaborate and work more efficiently, but also improve the customer experience. Don't let yourself be left behind, perform transformation of your legacy software.
Key benefits of legacy transformation
As long as companies use legacy systems, they can't enjoy the advantages of modern technology. Find out some of the most important benefits that legacy system modernization
can provide!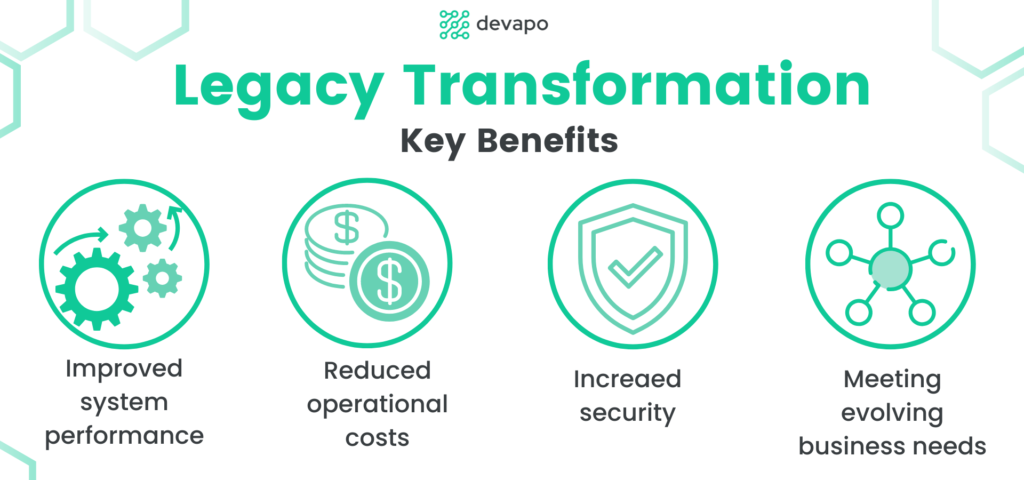 Improved system performance
Using outdated software technologies is disruptive to both employees and end customers. It is unrealistic to expect older IT infrastructure to be as efficient as new digital and agile standards. legacy system modernization may seem time-consuming, but it will allow for a significant reduction in uptime, which will directly translate into better performance, future growth and market delivery.
Reduced operational costs
While modernization process may seem like a huge investment, its ROI is much greater. Moving legacy systems to a modern solution proves to save money in the long run. Outdated software requires a huge amount of money to maintain. Additionally, if the system was not developed, but purchased, the cost of subscriptions, upgrades or new features must be added to the amount. Most of legacy systems are hosted in local data centers, which are also expensive to sustain. By system modernization, your organization saves on downtimes, expensive maintenance, frequent troubleshooting, limitations and more.
Meeting evolving business needs
Companies need to evolve to avoid losing market share to competitors. Legacy system modernization can help them achieve their goals through a variety of changes, such as making it easier to create new functionality, integrate with other solutions or automate processes that were previously done manually. New API-based solutions eliminate the need to write complex code, and cloud-based APIs eliminate the costs associated with buying and maintaining expensive servers to store data and run applications. This and more makes it easier for businesses to achieve their requirements.
Increased security
Older systems are more unsafe than modern ones due to their lower resistance to cyber attacks. Companies, especially those dealing with data transfer or databases, should take special care of their systems because they deal with sensitive information that is vulnerable to attacks. Modern systems provide the latest security standards and are much more stable. It is extremely important to perform legacy system modernization to enhance safety.
Do you want to modernize legacy systems? See real-life example
Replacing legacy systems can help you avoid the risks outlined and significantly increase the efficiency and security of your operations. We know that software modernization is a difficult decision for companies to make. That's why, at every stage, we make sure to communicate and listen to your needs and be your advisor.
See how, for one of our clients – the largest bank in Azerbaijan we carried out the transformation of legacy infrastructure into a modern solution.

This resulted with a more efficient and stable system, built on an open source and flexible CI solution. By splitting the older system into microservices and adopting the best of the Cloud, the whole system simply became easy to use, predictable and easy to manage, yet the business value of the old system was preserved and increased.
Summary
Legacy System Modernization refers to the process of updating or replacing outdated technology infrastructure with more modern and efficient alternatives. This process can help you to improve their operational efficiency, reduce costs, and enhance ability to compete in today's fast-paced business environment.
The modernization process can include updating hardware and software, migrating data, and integrating new technologies such as cloud computing, artificial intelligence, and automation. While the process can be complex and require significant resources, the benefits of modernizing legacy systems can be significant, including improved performance, scalability, and security.
---
---
It's Time to Replace Your Outdated Legacy Systems.
If you're curious about what cutting-edge technologies can support your IT background, contact us!