The decision about which solution to choose – on-premises vs. cloud – has begun to loom large in the minds of IT executives. Especially in recent years, when the cloud has become one of the biggest technology trends. It is even presented by many as the new standard. 
Does this mean that it's better and you need to migrate to the Cloud or choose it as a take-off? Let's dig deeper into the topic and answer the question raised in the title.
On Premises Infrastructure and Cloud Environment
On-premises is an older model for managing IT infrastructure or software than the Cloud. It runs on the local servers, which means that the company's entire IT systems are on-site. While it was the most popular option a decade or two ago, cloud-based solutions have been displacing it over the last few years.
In the Cloud model, resources including the network, applications or files are stored outside your company. They can be kept on a server in an external company's data center, as well as a public cloud (such as Microsoft Azure or Google Cloud). You can use the resource within a fixed periodic subscription, which has its strengths and weaknesses.
Let's see what are the pros and cons of both On-premise and the Cloud.
Key Differences of On-Premises vs. Cloud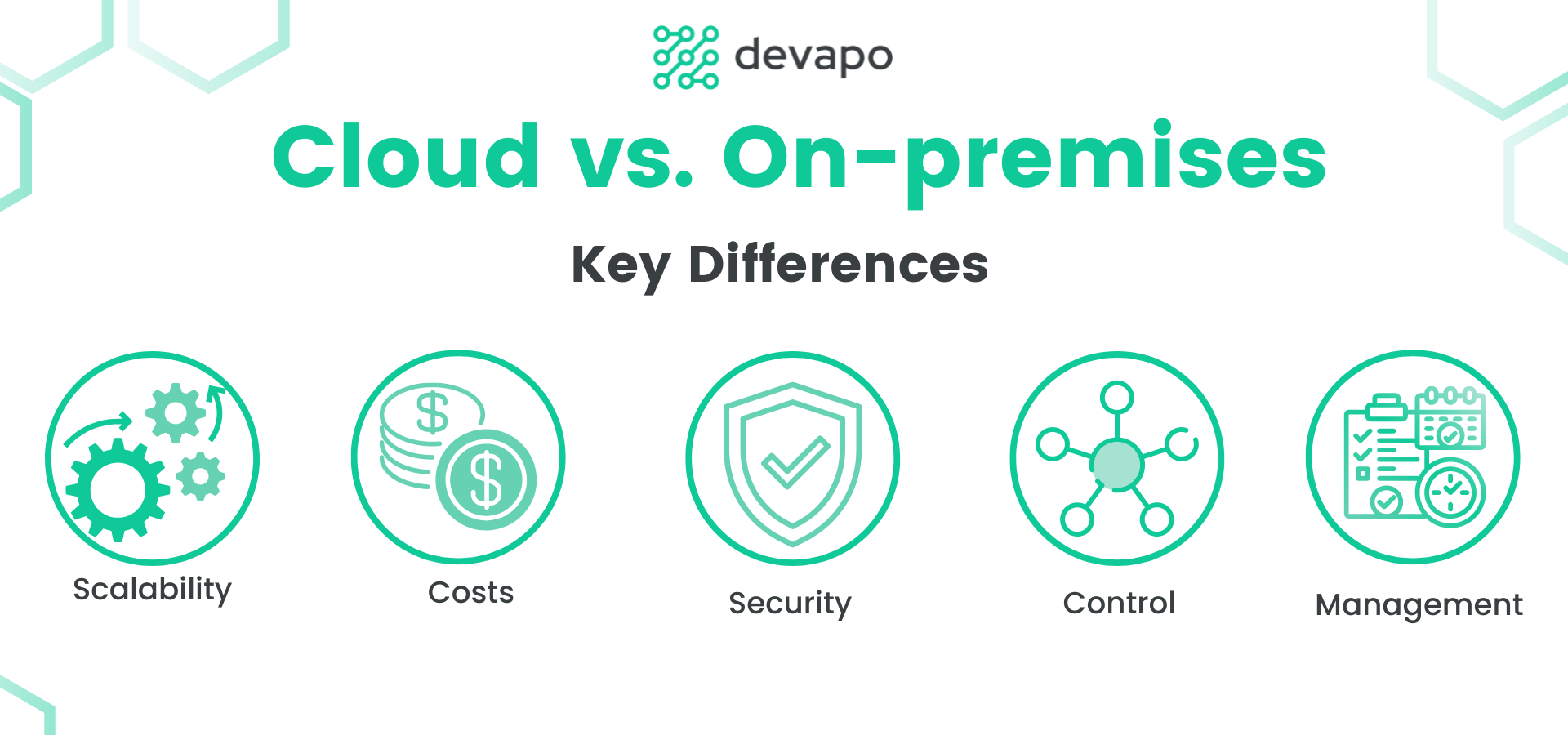 Costs
On-premises means high cost of entry and operation. This may be the key to your decision. The cost of purchasing hardware and software is a not inconsiderable expense. In addition, it is combined with the need to separate a dedicated space and properly adapt it to the requirements of the server room. The implementation of the network itself is also an expense. The company also has to incur fixed costs, such as building a team of IT specialists to ensure that failures do not occur or to repair them (another cost may be the outsourcing of such service technicians). On top of that, there will be purchases of new equipment or license renewals every few years. When deciding on an on-premise solution, we have to reckon with the fact that the cost of an efficient installation is a very large investment.
Cloud has lower cost of maintenance. Once you sign a contract with a cloud service provider, you get access to a certain space as part of the monthly fee. You don't have to face additional and unplanned expenses for hardware, room, or troubleshooting. Predictability of costs helps you budget better. Also, increasing cloud storage space is cheaper. With on-premises solution you have to buy another server, which will not immediately be used to its full capacity. Using the public cloud, you pay only for what you use. However there might appear some additional costs, such as an a full-time engineer who is familiar with the platform and will help you build your infrastructure in the cloud or help you properly encrypt your data before migration (you can use an outside resource for that).
Control
On-premises is your own resource. Any asset that belongs to you has one unquestionable benefit – you can dispose of it as you wish. When you will build an on-premises infrastructure, you can configure everything exactly the way we want, without any restrictions. This is an important factor, that enables more customization than Cloud solutions, because you have full control over making changes.
Cloud doesn't provide you full control. When a failure happens, your cloud service provider (CSP) will certainly want to deal with it as quickly as possible. However, you won't have insight into what may have caused it, or confidence that it has been resolved fully, so that it won't occur again in the future. You simply don't have full control over what happens to the servers, how they are secured or cared for.
Scalability
On-premises scalability is impeded. In this model, the ability to scale up is possible, but it requires additional money and time resulting from, among other things, deploying more devices and configuring them. This takes up valuable resources and slows down decision-making and processes.
Cloud enhances scalability. Wanting to expand network capacity or space in the cloud environment, you just need to increase your subscription or change the terms of your contract. In return, you'll immediately get a solution that's ready to deploy next steps and allow you to scale without waiting for additional hardware or setting it up.
Security
On-premises – you still need to keep in mind that hacking, data leek, data loss can also happen if your systems are on-site. Therefore, it is worth implementing special security measures if you are holding sensitive data. It's easier to install additional tools to protect data and programs based on the local system, as it is only your decision. It is also worth noting, that when using on-premises, IT resources are in your company's possession, not outside it. Therefore, you decide how they are collected, stored and processed and who has access to them. However, you are fully responsible for any incidents.
Cloud – If your data will be stored in another entity, the management and security of the data will be a responsibility of providers. There may be a risk, for example, of unauthorized access or data leakage. Before choosing CSP, find out what security practices and procedures the company has in place. To minimize risk, it is also a good practise to encrypt your data before sending them to the Cloud Provider.
Managing
Using on-premises solution, it will be your responsibility to comply with legislation. As the owner and operator of servers and local storage, you will need to take care of administrative matters, such as the need to create and store backups.
Cloud computing providers must make sure their operations comply with all the various regulations. Sensitive data must be secured, and customers, partners must have privacy. Data are also periodically backed up. You don't have to worry about hardware, software or managing your own data center, so all the administration and compliance falls on CSPs.
On-premises versus Cloud – which solution is best for you?
Both on-premises and cloud can prove up to the task. In order to be able to state clearly, which is better for you, I would need to know in detail: the needs of your company, its goals, but also the technology on which you currently operate or plan to implement. It may turn out that a particular solution you use works with only one model, and in this situation, you will not have much choice.
Feel free to arrange a short meeting with me if you are interested in getting my advice.
Technology today revolves heavily around the Cloud and it is undoubtedly a very strong trend that many companies are moving towards. It enables easier development of microservices solutions, which in turn make it easier to make code changes and contribute to better project management. But… 
Assuming you already have a server room set up, secure, and you aren't in financial straits or planning a major expansion, then you may find that your on-premises infrastructure is adequate. It can still serve you well if it is compatible with the solution you want to deploy.
With the help of Open API features, a cloud-based solution is simply much more convenient and integrates more easily with modern tools and programs. The financial aspect is also on the side of the Cloud.
---
Devapo services – how can we help you
At Devapo, we offer software development services in both environments. We have experience in:
Building new software solutions of different infrastructures,
Integrating applications on both Cloud and On-premises solutions,
Migrating to the Cloud
I hope the above information will allow you to make a decision about which model is better for your business. If you have any doubts, I again, invite you to contact.
---
---
Do you need help evaluating which model is better for you?
We will introduce you with all the options